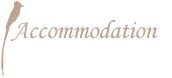 Your home away from home…
We delight in ensuring that your overnight stay with us will leave you feeling refreshed & relaxed.
Thornbirds offers a wide range of 4 Star accommodation solutions to suit your specific needs. With 2 executive suites & 8 luxury rooms, we are able to accommodate 20 guests sharing.
*Executive suites can only be booked as sharing or single rooms as beds cannot be split into twin beds as room has 1 queen / king size bed.
Room Amenities Include:
Twin beds / King bed
En-suite Bathroom with shower
TV
DSTV Compact
Complimentary tea & coffee station
Microwave
Bar fridge
Air-conditioning
Complimentary wi-fi – Wi-fi connectivity & signal can't always be guaranteed.
Lounge, kitchenette & bath (for selected rooms)
Activities in and around the area:
Shopping Malls; Mall of the South / Trade Route Mall, Lenasia / The Glen Shopping Centre / Southgate Mall
Museums; Apartheid Museum at Gold Reef City
Casino; Gold Reef City Casino & Theme Park
Golf; Eye of Africa Golf Estate
Equestrian; Horse riding & hiking trails near Eye of Africa on in the Klipriviersberg Nature Reserve
Sports Stadiums; Soccer city (FNB) Stadium / Ellis Park
Tours; Soweto / Sharpeville
Check-in & Check-out Times
Please note that check in time is from 14h00 & check out time is by no later than 10h00.
Early check-ins & late check-outs can be arranged at an additional fee of R100-00 per hour but cannot be guaranteed & are subject to room availability. The same room cannot be guaranteed either.
Unauthorised early check-ins or late check-outs will be billed accordingly.
Breakfast/Lunch/Dinner
All meal requirements must be arranged prior to check in.
Breakfast is only served from 7h30 until 10h30.
Breakfast consists of a Farm Fry-Up (2 slices of toast, 2 eggs, 3 rashers of bacon, grilled tomato, sautéed mushrooms, baked beans & a sausage), a small glass of juice & a cup of non-speciality tea or coffee.
Additional breakfasts for guest wishing to join you will be charged at R120-00 per person & 24 hours notification is required.
Thornbirds dining facilities during the evening will only be opened for a minimum of 6 guests staying over. Alternatively, meals will be served in the room. The dining facilities are open for dinner from 18h00 to 22h00.
Menus are prepared at the chef's discretion but you are welcome to forward any dietary requirements in advance. An additional surcharge and delivery fee is applicable for strict dietary requirements such as Halaal, Vegan or Kosher meals.
Guests are welcome to provide their own microwavable meals should they wish to. Please ensure you request cutlery & crockery from Thornbirds in advance (please do not put any tinfoil item in any microwave).
Room Beverages
All rooms are equipped with a bar fridge.
Beverages may be pre-ordered as per the room beverage list & your fridge will be stocked accordingly.
Thornbirds does not allow beverages to be brought onto the premises for consumption unless prior written consent has been received from Thornbirds management.
Thornbirds reserves the right to confiscate any beverage/s as well as charge a corkage fee for beverages brought onto the premises without management's consent.
Laundry Services
Laundry services are available at an additional cost.
Laundry services have a 24 to 36-hour turn-around time.
Thornbirds however does not offer dry cleaning services.
Guests are not permitted to utilise the laundry or any of the appliances at any time.
Children
The rooms at Thornbirds accommodate a maximum of 2 guests. Children under the age of 6 years are however welcome to share the room with their guardians providing that there is only 1 child.
1 Child 3 years or younger per room may share with his / her parents / guardians at no additional charge.
1 Child older than 3 years but younger than 6 years may share with his / her parents at an additional rate of R165-00.
Thornbirds does not provide additional mattresses, linen, towelling or toiletries in these cases. An additional breakfast fee of R65-00 is payable per child under 6 years but older than 3 years when sharing a room with 2 guardians. This breakfast consists of 2 slices of toast, scrambled eggs, 2 rashers of bacon and a small glass of juice.
Children are not allowed to be left unattended in the rooms at any time.
Children are not permitted to use the swimming pool unsupervised. The pool is off-limits should there be an event taking place in the immediate surrounding area.
Use of the swimming pool is only permitted by prior arrangement with management.
Terms & Conditions
Rates quoted are in South African Rand (ZAR).
Rates include 15% VAT.
Rates and availability are subject to change without notice.
All reservations must be confirmed in writing by completing the Thornbirds check in form. Your reservation will be confirmed once Thornbirds has done so in writing.
A maximum of 2 guests are permitted per room when booking a twin / sharing room and a maximum of 1 guest is permitted per room when booking a single room. Unauthorised guests will be billed at the full rate per person.
The completed check in form together with a copy of the client's ID document and a copy of the front and back of the client's credit card as well as a 50% deposit is required to secure a booking.
No booking will be confirmed without a copy of the signed quotation, a copy of ID & proof of payment of the deposit.
A retainer fee of R800-00 per room is payable in cases of loss / damage to Thornbirds property. This fee will be refunded within 5 working days.
Any amount exceeding this retainer fee in the case of any breakage / loss / damage to Thornbirds' property will be payable before departure.
Furthermore, a 50% deposit is required to secure a booking.
Full payment is required no later than 7 days prior to check in.
All outstanding bills such as laundry, beverages etc must be settled before checking out.
Additional services such as laundry, beverage tabs etc. will not be permitted if credit card details have not been received.
Thornbirds reserves the right to change quoted rates accordingly should Government change the percentage level of VAT or introduce any other tax levy.
Thornbirds reserves the right to charge for any damages or loss of Thornbirds property.
Lost keys are charged at R800-00 as the lock will be replaced & a call-out fee will be paid to a locksmith.
All non-guaranteed bookings will be released at Thornbirds' discretion should no prior arrangements be made to secure your reservation.
All booking amendments or cancellations must be done in writing.
Guests are requested to keep noise levels down & to respect other guests at Thornbirds. Guests who do not adhere to this will be asked to vacate the premises.
All rooms are non-smoking.
Right of admission is reserved & Thornbirds reserves the right to evict any person/s at any time should there be any irregularities on the guest's behalf.
Commissionable rates are available upon request.
The following charges will apply for cancellations made:
An administration fee of R100-00 is payable regardless of the notification period.
21 days or more: 0%
Less than 21 days but more than 14 days: 25%
Less than 14 days but more than 7 days: 50%
Less than 7 days but more than 72 hours: 75%
Less than 72 hours: 100%
Please contact us for questions or further details.
Please note: Viewings are permitted by appointment only!